Evie is a dance maker and performer based in Cyprus.
Her work can be characterised by the desire to question and to challenge the boundaries of conventional dance. In every new piece of work the artist challenges her own limits as well as the spectators', creating a space of interaction and communication.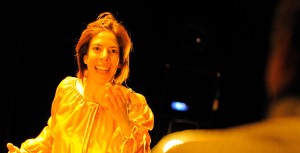 Evie has a diverse education background. She graduated with BSc in Land Management at the University of Reading and worked in the field of Urban Planning in London and Paris. She studied dance at the Laban Centre in London and with scholarship at Limon Institute and Dance Space Centre in New York. She is a 2004 Danceweb scholarship recipient and a travel grant recipient from the E-motional European Programme 2011-2014. In 2012 she was an invited artist for the European project "Act Your Age" , a European collaboration between Holland, Italy and Cyprus.
Since 2001, she performed with international choreographers such as Rosemary Lee, Athina Vahla, Alain Buffard , Felix Ruckert and collaborated with most of the Cyprus based choreographers.
In 2004 she co-founds En drasi, the umbrella that supports her choreographic work. Her staged performances as well as videodances have been presented in various international festivals.
Evie has an active role in developing the art of performance/dance in Cyprus by being a member of the committee of New Movement of Dancers and Choreographers (2006-10,2012) and one of the founding members and resident artist at the Dance House Lemesos (2007-15) .